Brief introduction to the principle
we have got some experience that using pressure and massage to pain paralysis place in body we can get a good quick effect. Channels and network vessels are path way linking up the within and without  of human body. And moving blood, having effects connecting the bowels and viscera supplying nutrients for whole body and resisting diseases.
Channels and network vessels are such a thing by which it can be treated vacuity  and repletion can be regulated. They must be unblocked the channels and network vessels in human body are held together by more than 670 points spreads all over the body, constructing complicated network, the points are place where the vains of bowels and viscera transported into and meets when vains in channels and network vessels is blocked at the point some where human body becomes ill.
Massage and Acupuncture at relevant points can make vains of channels and  network vessels plentiful and uninhibited pass through whole body reaching the effect to cure sickness and protect health. Taking no medicine can reach the effect to cure and prevent sickness, and can reduce side effects. That is the natural therapy just unfolding in the world. But massage and acupuncture need well trained physician to accomplish to expand the application of this medical gem and to bring benefit to the people we apply modern electronics and microcomp. technology to develop MULTI STIM-1100 programme controlled massage and acupuncture therapy device. Meanwhile the action of the instrument is sustained can permeate in the layer of the human body, Soothe the channel quicken the network vessels, reaching the effects to cure sickness and protect health. Multi Stim-1100 current stimulators being used for symptomatic relief and management of chronic long term intractable pain, as an adjunctive treatment in the management of post surgical and post traumatic acute pain problems. Being used for relaction of muscle spasm, prevention of dis use atrophy, increase local blood circulation, muscle re-education, immediate post surgical stimulation of calf muscle to prevent venous thrombosis, maintaining or increasing range of motion.
MULTI STIM-1100 is an electro simulator which helps every women to improve their face and figure quickly, successfully, safely and non-invasive modality with no side effects. useful for lifting muscles, facial pectoral and abdomen, wrinkles, double chin therapy done successfully and also very much useful to tone the muscle, breast and skin.
Giving curves and definition, enhancing spot and volume reduction. this unit is specially designed to reach at different body depth levels most effectively precisely and bring out the results that will surprise all.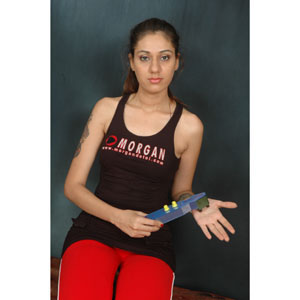 MULTI STEEM